I have had ongoing problems with blurry textures in both the game options menus and with the compass and icons in game play. This occurred in both STA 1.x (all versions) and in STA 3.1. After spending some time exchanging private e-mails with Lockie, the problem appeared to be associated with the anti-aliasing settings in my ATI Radion graphics card. After tinkering with them for a bit, I finally was able to find a fix that resolved the problem. I will remain watchful to see if the fix is permanent.
Lockie asked that I post what I did for those of you who play the game using an ATI graphics card who may also be have texture resolution issues.
I will start with the initial settings that were seen in the Catalyst interface to my graphics card. Here is a screenshot of the initial state. Note that there is no absolute "turn off" switch for anti-aliasing. Apparently "Use Application Settings" is the turn off equivalent. Note also that the filter is set to "Standard", Method is set to Multisampling, and Morphological Filtering is Off.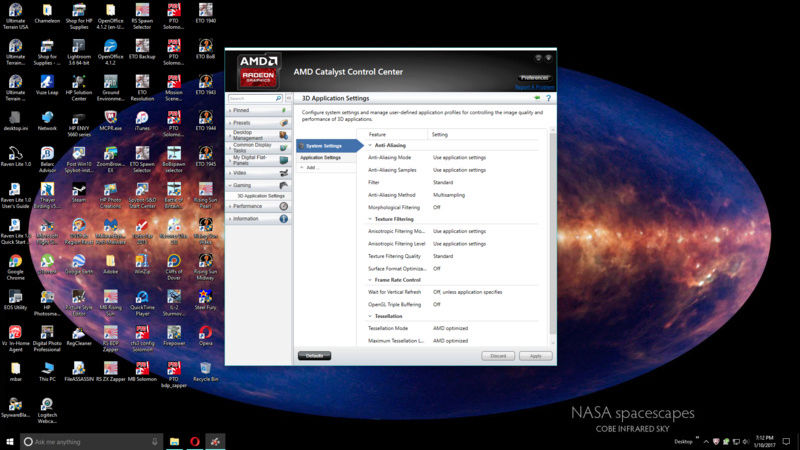 I made the following changes: I left Use Application Settings as they were originally. I then set Filter to Edge-Detect, Method to Adaptive Multi-Sampling, and Morphological Filtering to On (Full Screen 3d Application Only). I applied these settings and then restarted the game. Lo and behold! the blurry textures were gone, and screen resolution was much better all around. Here is a screenshot of what the game looks like with these changes to the anti-aliasing settings.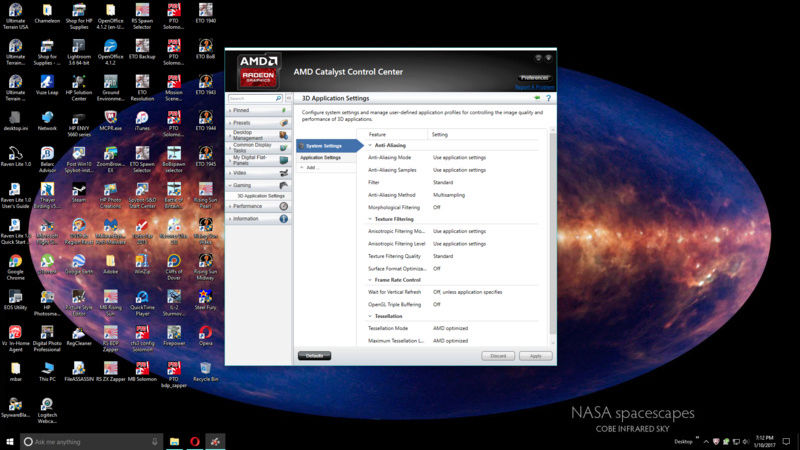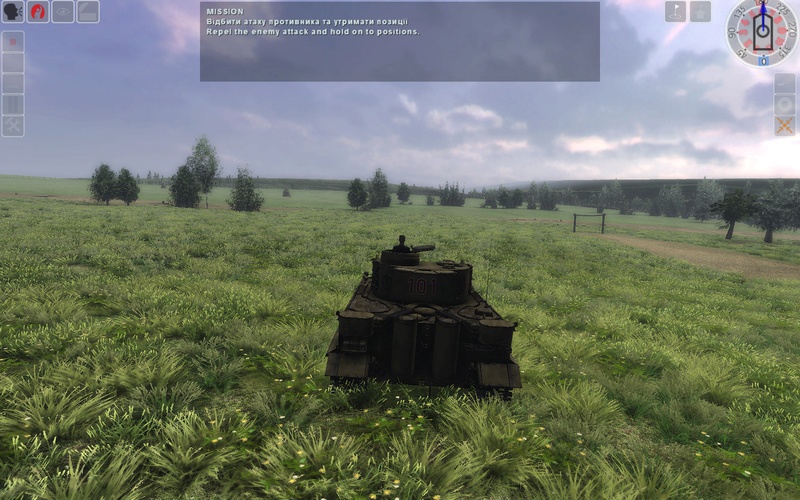 I then went back into the anti-aliasing settings and returned them to the original state (shown in the first screen shot above) and restarted the game. The fix had taken and so far 5 days later they are still standing tall.
I cannot say with any degree of technical certainty what caused the change by doing what I did, I just know it worked. If any of you out there have the same resolution problems and are using ATI graphics technology, give this a try. I cannot promise it, but it may solve your resolution issue. Personally, I think it was the Edge-Detect that did it, but I am just guessing about that.