Couldn't resist picking this up at Carmina Hobbies in Fuengirola, Spain...
...though what I
actually
got was a two-part magazine version of the above book, with the same content and the same 192 pages.
'Villers Bocage - autopsie d'une bataille'
by Frédéric Deprun and Yann Jouault is an excellent and detailed reconstruction of the battle, based on the latest research, including photos, eyewitness accounts (civilian as well as military) and unit histories. Much use is made of aerial photographs (including some taken around 13 June 1944), many zoomed in and with the positions of individual, named tanks shown in different locations, as the action developed. There are also some 'then and now' photos; the difference with the usual sort is that the 'now' versions often show a tank wreck superimposed on the modern view. Captions are extensive and there are notes on each chapter which add detail on sources and deductions or conclusions. Nothing's in English but it's not proving too much of a challenge for my schoolboy French!
Part 1 covers the build-up including the approach march of s.SS Pz. Abt 101 and the advance of 22nd Armoured Brigade to Villers Bocage. Part 2 covers the afternoon battles, including the moves by Panzer Lehr, 2nd Panzer and the counterattack by 1 Kompanie of the Tiger battalion, which was very roughly handled by the British, demonstrating their typical tenacity in defence.
I'm sure we have all read several accounts of the battle and know that sources differ. Most if not all recent sources now seem to recognise that Witmann did not make a second attack into the town and that even in his own attack, he was supported by fire from at least some of the other Tigers in his 2 Kompanie, which seems to have helped keep the British tank spearhead occupied, which would otherwise have made it very dangerous, if not suicidal, for Wittmann to turn left and engage the light AFVs lined up along the N175, back into Villers Bocage.
For me, the most interesting conclusions or opinions of this new work were:
- Witmann had left one of his six tanks - identified as 211 - on 'outpost duty' near a roadside cross at a junction on the north side of the N175, just east of Villers Bocage. Once Witmann went into action, this Tiger supported Wittmann's attack, and possibly hit some of the half-tracks or carriers at the rear of the Rifle Brigade column on the N175. That Tiger was seen there by a reliable local civilian source and it matches the location of one reported hit in a radio transmission recorded at this time, by one of the Rifle Brigade column's two 6 Pounder AT guns;
- contrary to some even recent accounts, Wittmann had not turned around when he was shot at by Pat Dyas, but was engaged unsuccessfully from the rear, rotating his turret by 180 degrees to knock out Dyas's Cromwell, which had been stalking the Tiger after it passed by;
- while Wittmann's Tiger then met Stan Lockwood's Firefly further down the road, exchanged fire and and backed up before turning around and heading back east, Witmann was NOT then stopped, as most accounts still say, by track damage from a 6 Pounder AT gun outside the shop where he soon after abandoned his Tiger. The shop
is
where his damaged tank came to a halt and was abandoned, but is
not
where the damage which eventually caused it to halt was sustained. Possibly it was Lockwood or Dyas who caused the damage, and possibly Wittmann, in blaming an AT gun, did not accurately identify his attackers (he was certainly not familiar with a Firefly);
- one of the two 6 Pounder AT guns with the British column escaped with its Lloyd Carrier tractor, probably through a gap in the hedge behind the one pictured after being deployed and burned out. The escaped gun is probaby the one credited by the British with later (during the afternoon battle) knocking out some German light AFVs but despite being the only other 6 Pounder in the area at the time of Witmann's attack, did not engage Wittmann in the town;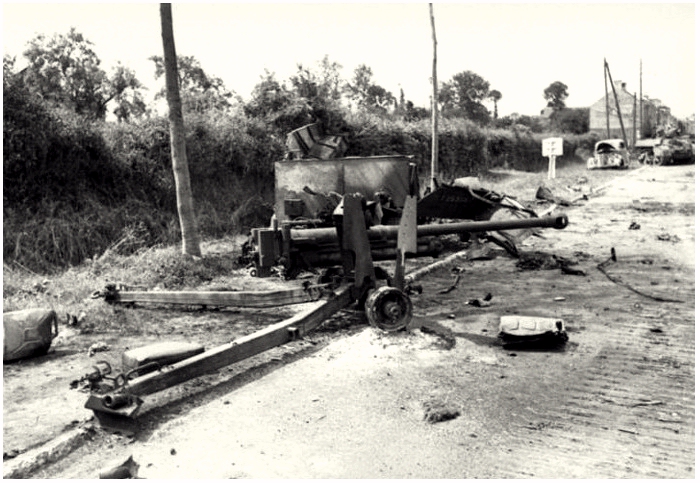 - the group of Cromwells often pictured amongst hedges and trees is not as often said, on Point 213, they are in a field just north of the N175 about half-way between the town and Point 213.
I am still reading part 2 (while dipping back into part 1, to improve both my French and my understanding of what the authors are saying! Production quality is very good indeed and the huge number of illustrations includes many of the well-known and some not-so-well-known Kriegsberichter pics of the aftermath, and some nice colour profiles of many of the actual vehicles involved  - including a Universal Carrier with a nice big US .50 cal HMG in front, like this one:
For 12.50 Euros each, I'd definitely recommend
'Villers Bocage - autopsie d'une bataille'
to anyone who is interested in a new, forensic but very human and superbly-illustrated of the famous battle. There's talk of an English edition at some point, but no deals yet.