Fighting the famous WW2 tank battle in a rather less-well-armoured panzer!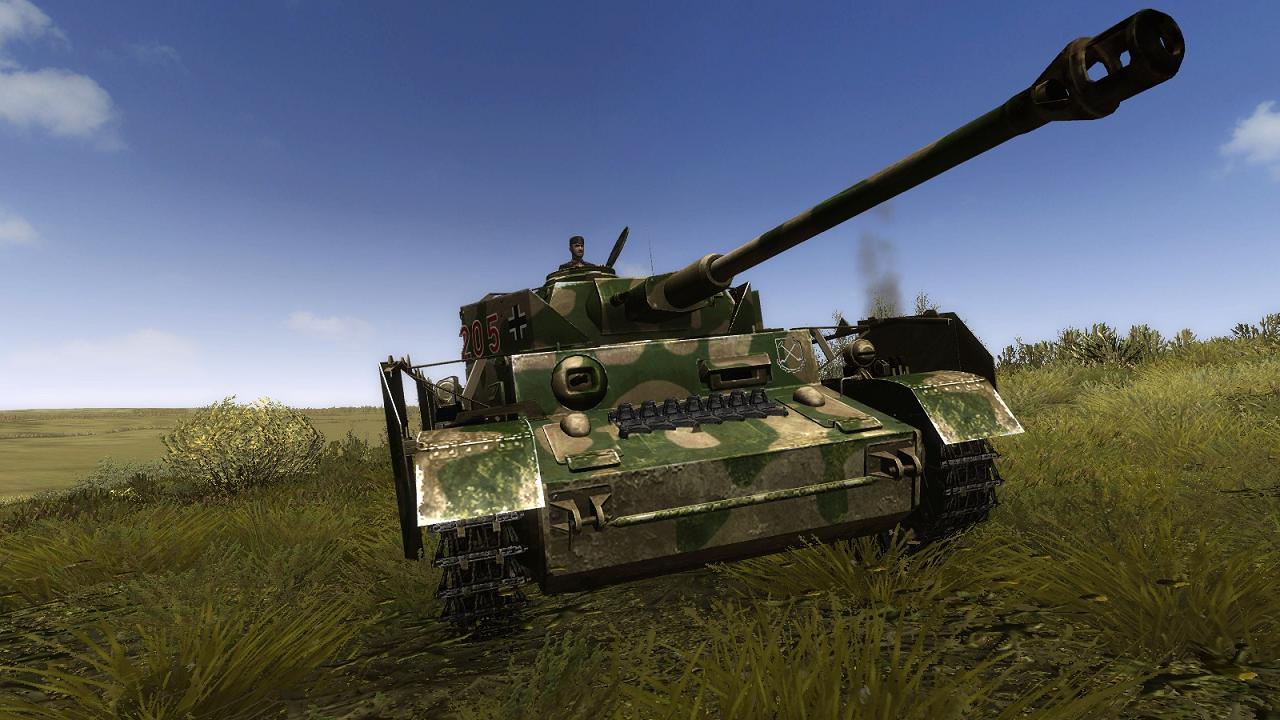 At last, Steel Fury has arrived in Normandy! This welcome development with the Steel Tank Add-on (STA) mod for Graviteam's superb WW2 tanksim comes in the form of three new missions, based around a well-known action in June 1944 between elements of several German armoured units and a spearhead of the British 7th Armoured Division, the famous Desert Rats. The best known part of the Battle of Villers Bocage on 13 June is of course the attack on the leading 22nd Armoured Brigade by the Tiger tank of panzer ace Michael Wittmann. The latter is widely credited with destroying the British spearhead single-handed and while the truth is evidently a bit more complicated, there's no doubt that Wittmann and the other German forces involved succeeded in halting a potentially very dangerous penetration that could have had serious consequences for the German's ability to hold the key town of Caen, a lynchpin of their defence of Normandy after D-Day.

Even if you're not new to the story, you'll probably enjoy the recent re-telling of the tale, available as a free online book by Akhill Kadidal, here.

Thanks to the STA team - notably Lockie & Deviator for the missions, Deviator for the map/landscape and Will73 for Bitish AFVs, sorry if I left somebody out! - we now have a small set of missions based on the battle. All (so far) are from the German side; two for the Tiger I and one for the Panzer IV. I think it's fair to say that all are 'inspired by' episodes in the battle, as opposed to exact reproductions of any given action.

I'll save the Wittmann fight for a later mission report, as it's still being worked on, based on feedback. For now, I decided to go with the last mission in the set, playing the late-model Panzer IV. Armed with a long 75mm gun and protected by spaced armour plates around the turret and (until they got knocked off!) either side of the hull, this was in 1944 still the backbone of the Panzerwaffe and in skilled hands, a dangerous enough opponent for Allied tankers. Earlier versions of the Panzer IV, both short- and long-gunned, come with vanilla Steel Fury but the Ausf. H version we'll be fighting in here is courtesy of SF's modders. As in fact is almost everything else in the mission, from the terrain to the buildings and their fittings.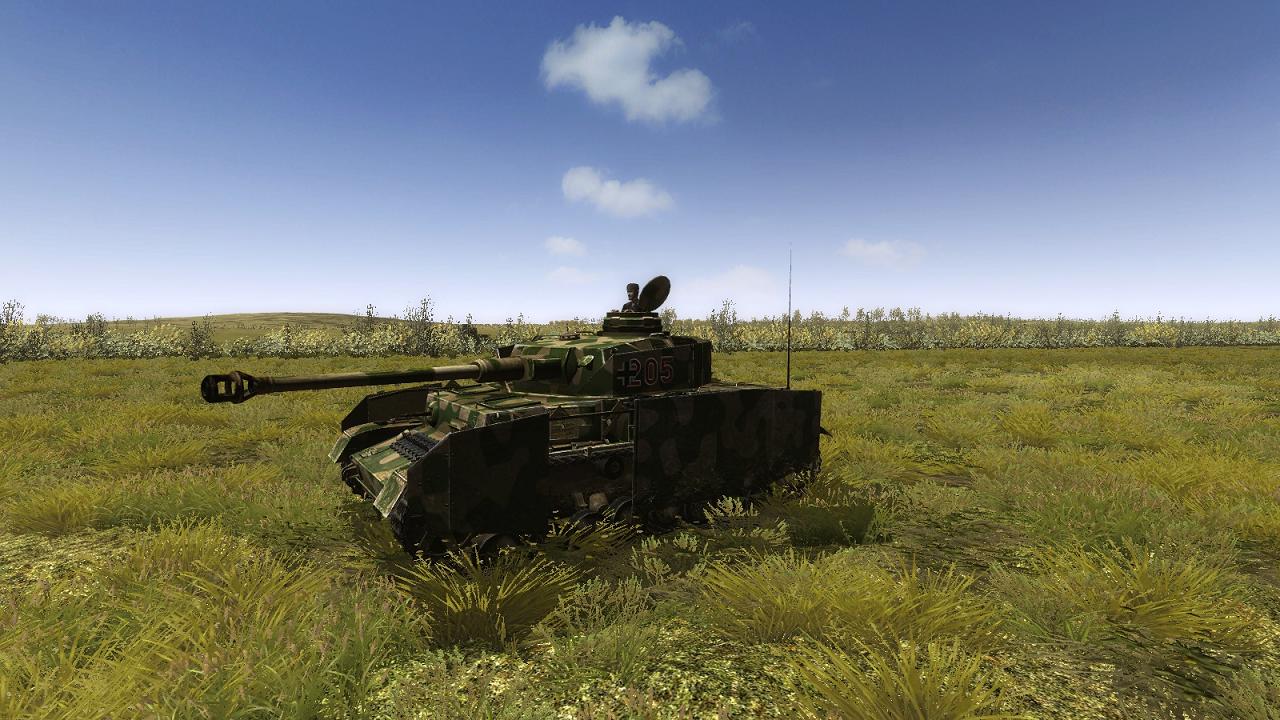 The Villers Bocage map is new for this mission set, and it's not only quite different from SF's stock eastern European terrain, it's also one of the very best seen in the sim so far. For whatever reason, you won't see the close rows of houses that lined the real main street in Villers Bocage, but the lie of the land is close to reality and the general effect is most convincing, for 1944 Normandy...even to the way your tanks will slow down and struggle to crunch noisily through thick hedgerows!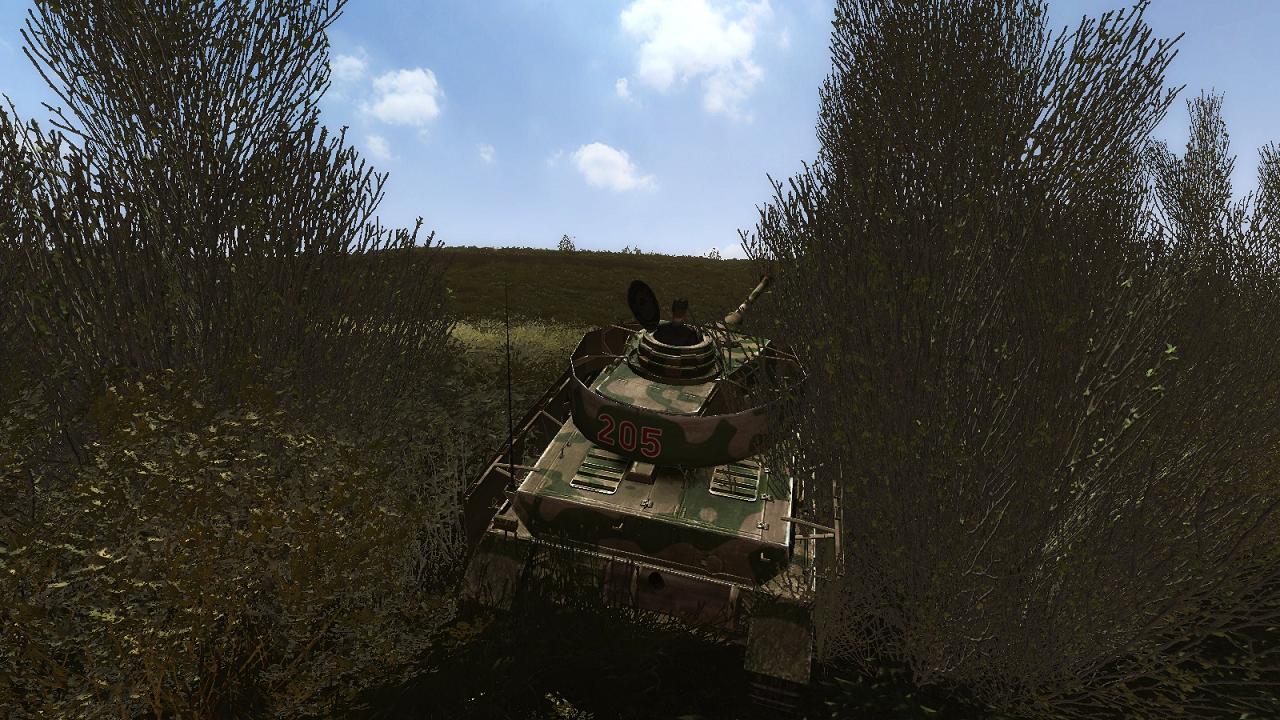 The terrain looks best with the recommended 'scorching summer' terrain mod, for which there's a version specific to the STA mod. All you need is available via the STA forums, here.

The mission

This was my first play-through, so while I'd previously tried out the Wittmann mission and seen the terrain, the Panzer IV mission itself was entirely new to me. It's called, rather melodramatically, 'Last Nazi Chance'. Here's the start of the briefing, which, as you can see, is bi-lingual: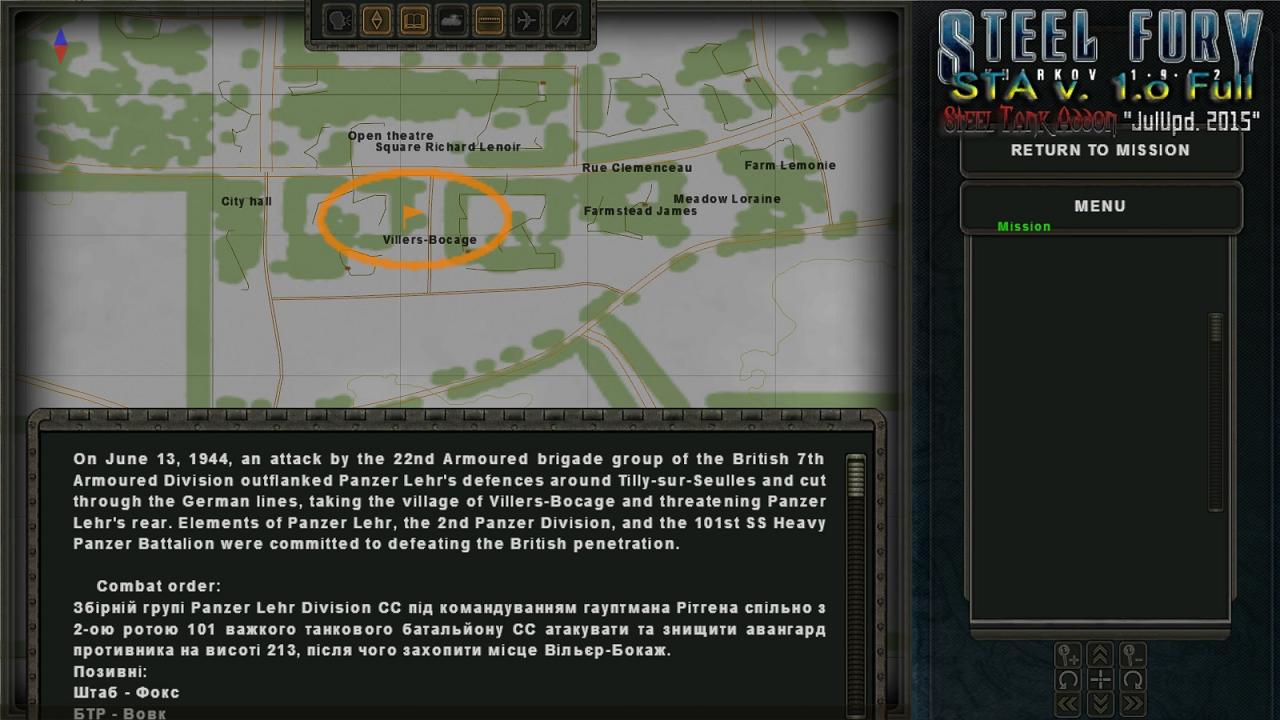 You are cast in the role of panzer Hauptmann Helmut Ritgen. I'm not sure which of the participating German units you are supposed to be with - Panzer Lehr, 2nd Panzer or Wittman's unit, SS Schwere Panzer Abteilung 101 - but your tank will carry the 'shield and keys' emblem of 1st SS Panzer, the Leibstandarte, as also carried by the Tigers of the 101st.

In short, as you'll see when you scroll down the briefing, your mission is in two phases - first, attack and destroy the British advance guard on Point 213, the high ground on the N175 road overlooking Villers Bocage to its east. Then, you are to attack and clear Villers Bocage itself, finishing with the Hotel de Ville. You're told that - prompted by a radio message you'll issue (this is actually triggered automatically, when the time is right) - some panzer grenadiers will join in and help you clear the built-up area.

The bad news is that you've only got two Panzer IVs in your platoon and a glance at the map shows there's only a single SPW (Schutzenpanzerwagen, armoured half-tracked APC) of grenadiers. The better news is that there are two other pairs of tanks which seemed to be lined up for a concentric attack. The even better news is that you will discover that the other four tanks are Tigers. My impression is that the briefing could be a little clearer on the composition and tasks of your force. In real life, orders are given by your commander, at the same sitting, to you and all the other participating platoon leaders, so that everyone knows what everyone else's part in the battle is to be. For this operation, we seem to have an under-strength and hastily-assembled force thrown into battle with little time for preparation or even thorough orders.

I know enough about Normandy 1944 not to expect any help from the Luftwaffe on this mission but I'd have hoped that the divisional artillery would have put in some shooting, or at least our ever-present German mortars would have softened up the enemy for us. But perhaps the idea is to take the English by surprise. As to how that turns out, we'll see soon.

I took a last look at the map, before moving off. It showed Point 213 to be the wooded area we will be able to see to our front, when we leave the briefing phase and start the mission itself. You can clearly see the distinctive contours in the pic below, with the text briefing panel suppressed. My two tanks are the blue diamonds, top right; below and behind them are the grenadiers in their single SPW. Below that are two more friendly tanks: Tigers, as they will turn out to be. Off to the left (west - north is blue, in the SF compass indicator, top left) are two more Tigers, in a hedgerow. It looks like we're nicely set for a concentric attack on Point 213, with the Tigers to the west, closest to the objective and therefore likely to go in first. Not a bad idea, from the standpoint of a Panzer IV commander.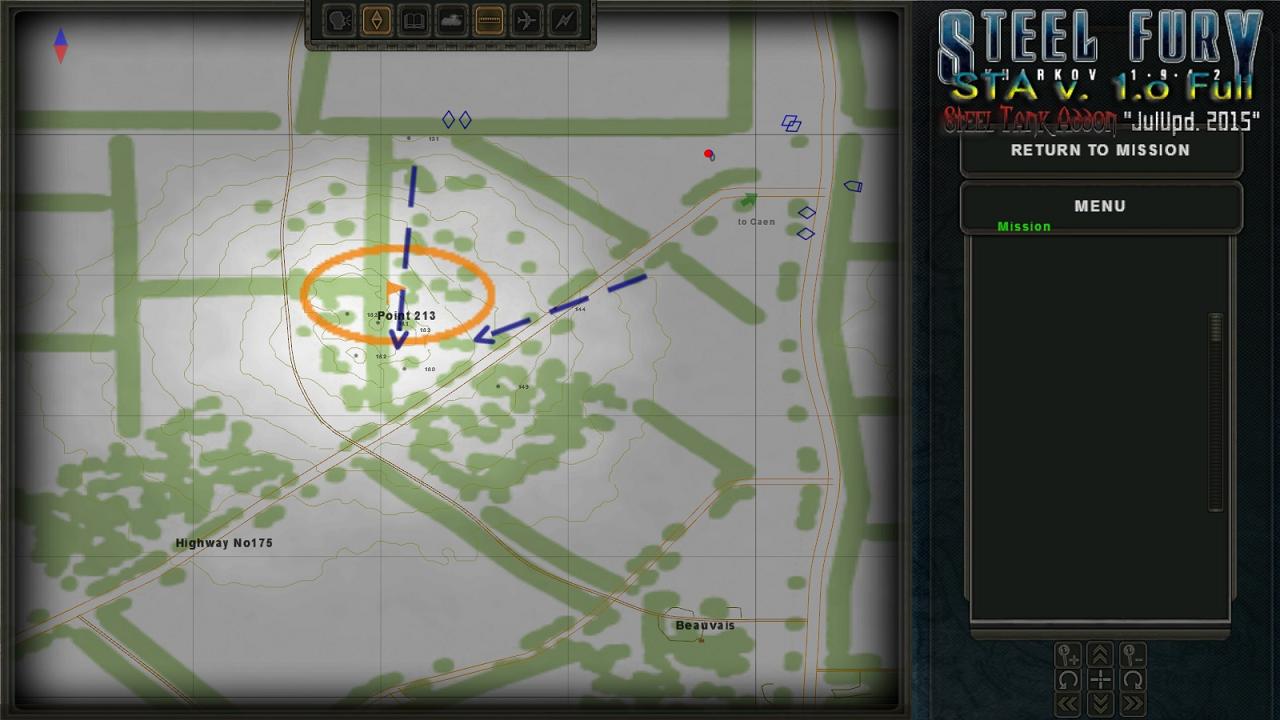 I kicked off the mission and as I usually do, immediately ordered the loading of a suitable round - AP seemed best, for this party. Switching to the external view for a good look around, I unbuttoned my tank commander. I then switched to the gunner position and started swinging my gun left and right, scanning for targets. Shooting started almost immediately, tank cannon fire by the sound of it, but both shooters and targets so far 'not seen'.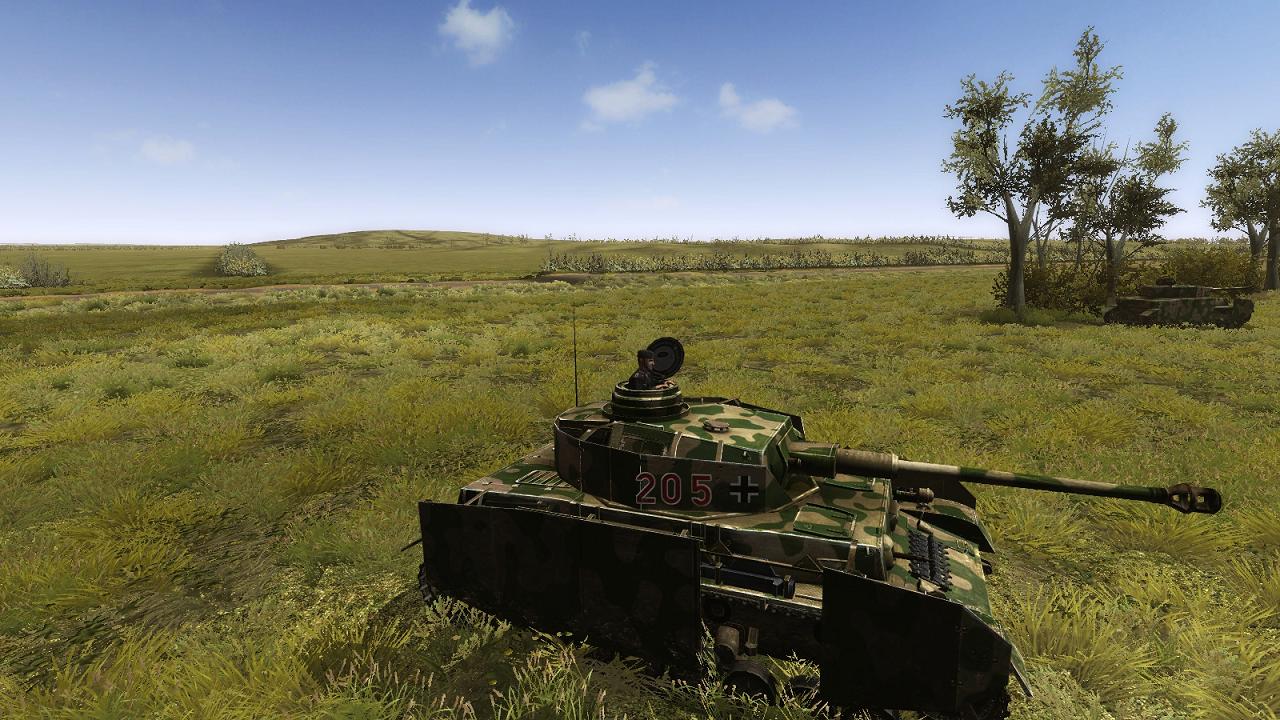 Hastily, I switched back to the map, gave my platoon - sorry, my other tank - the order to conform to my movements and stay close, then back in the external view, ordered my driver to move off. On we went, speeding up as we crossed the open ground towards Point 213, our first phase objective.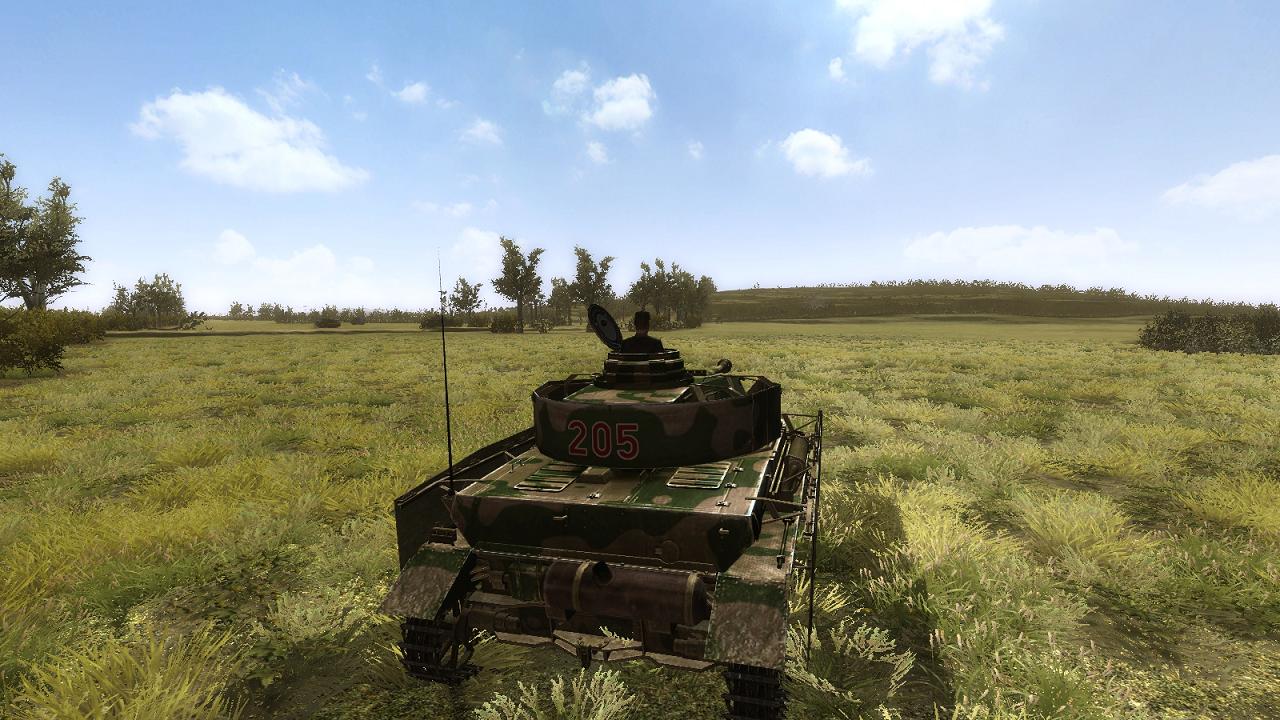 Normally, I don't much like to be rushed. In Steel Fury, I find I get rushed quite a lot. The mission starts, and before I have time to get my bearings in the 3d world, it's kicked off. Quite often, in attack, your friendly forces have gone charging at the enemy, leaving you little time to plan your own moves, for fear of being late for the party. In this mission, the party had already begun without me, from the noise the neighbours were making, up ahead out of sight somewhere. To my left, I barely noticed two Tigers forming up, as I rattled off towards Point 213, partly to cover the open ground quickly, partly 'marching to the sound of the guns'. One of our platoons - doubtless the other two tanks out to the west, closest to Point 213 - were already engaged and it made no sense to feed Oxo cubes to the lion, as one British general observed about Arnhem. We all needed to get stuck into the enemy with the minimum of delay, now that the hot metal had started flying.

For some reason, in my haste, I must have switched to another crew member because my tank's AI started taking over. The AI tank commander gave a new loading order, followed by a fire order, and the AI gunner dutifully started laying onto the target - an enemy tank, no less, which trundled into sight to the right of a clump of trees, up ahead.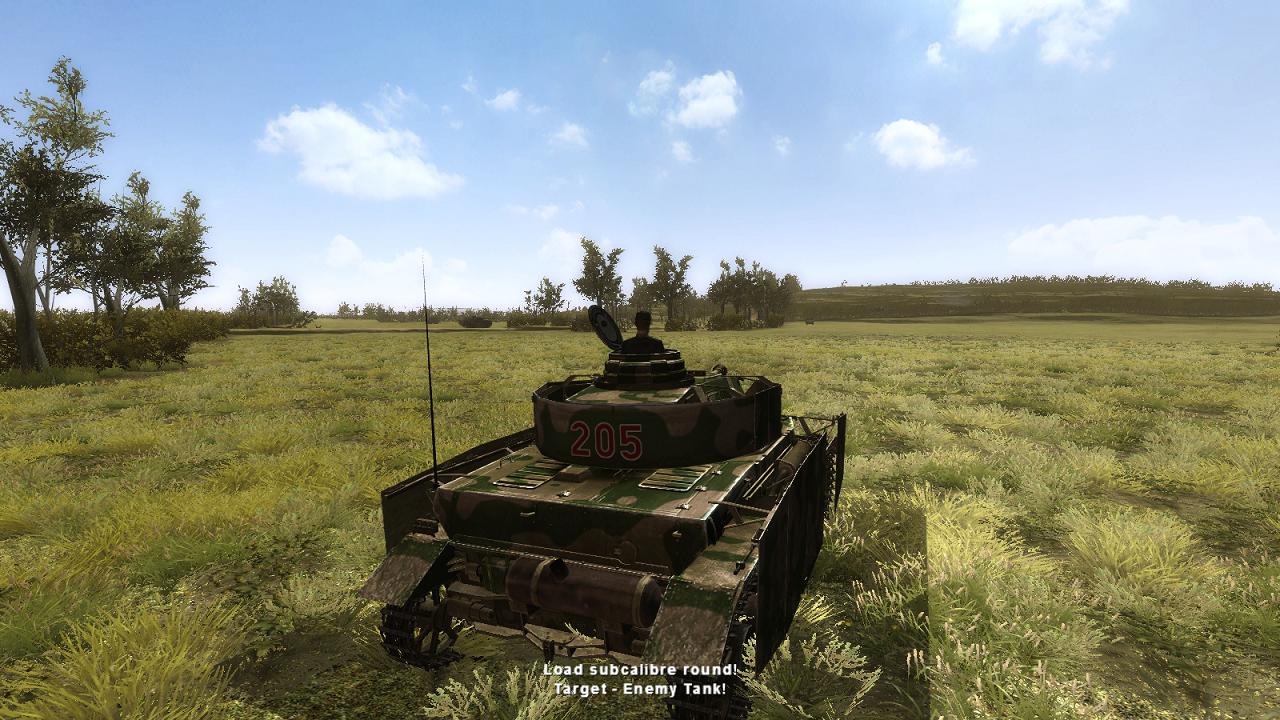 I quickly took over as gunner and fine-tuned my aim as my panzer came to a halt. He was a Sherman and I wasted no time lettng him have the AP round I had up the spout, urged on by the boss.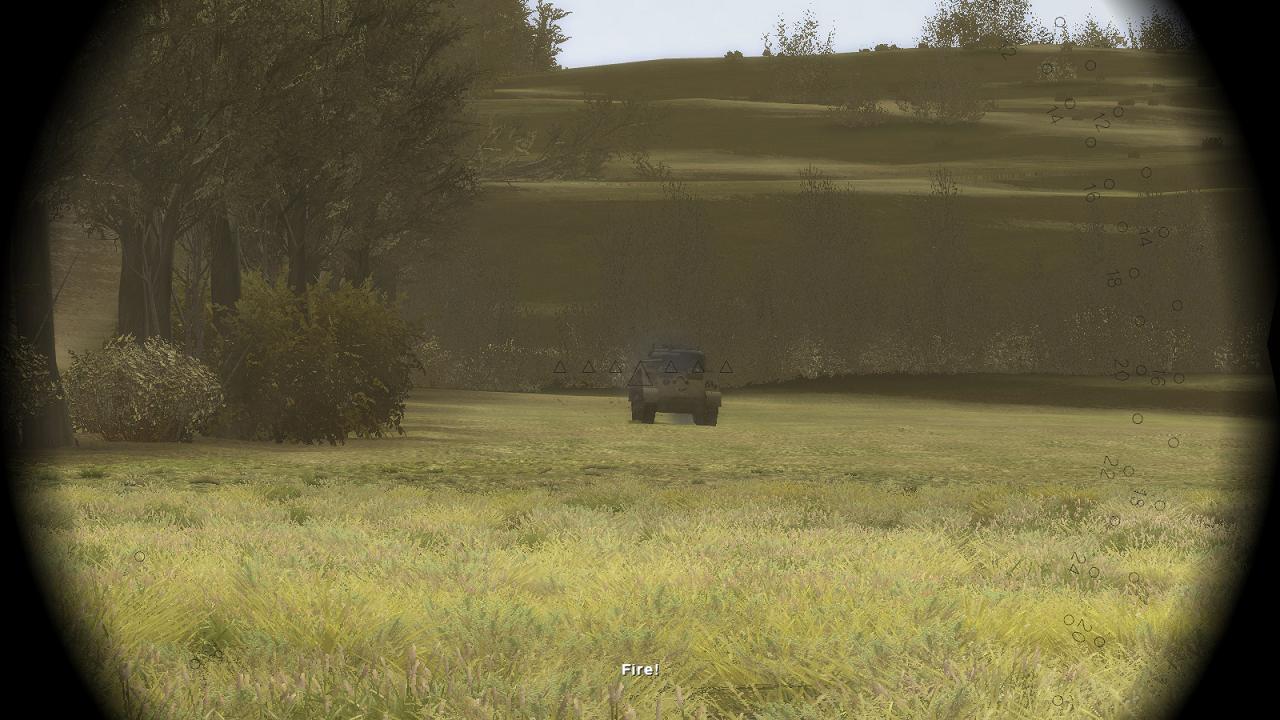 'Keep shooting till it changes shape or catches fire' is often my motto in these situations. Even if you get a hit, there's no guarantee it will be lethal. By the time I'd fired Round Number Three, I could see that it was time to stop. The Sherman's hatches swung open and then the crew bailed out of the smoking tank. One man crumpled to the right and lay still. A second fell in flames on the other side, while a third - the first man out - swerved around the rear of the tank, avoiding a rather unsporting burst from my co-ax. I let him go, after that. Enough is enough, even in war, virtual or otherwise.




I looked for other targets and seeing none, moved off again. My number two seemed to have disappeared out of sight somewhere, on the other side of a hedge to my right. There's a lot more cover like this in the Villers Bocage map; it's not at all what I'm used to, from fighting on Steel Fury's virtual steppes. Disconcerting, but in a refreshing sort of way, if that makes any sense.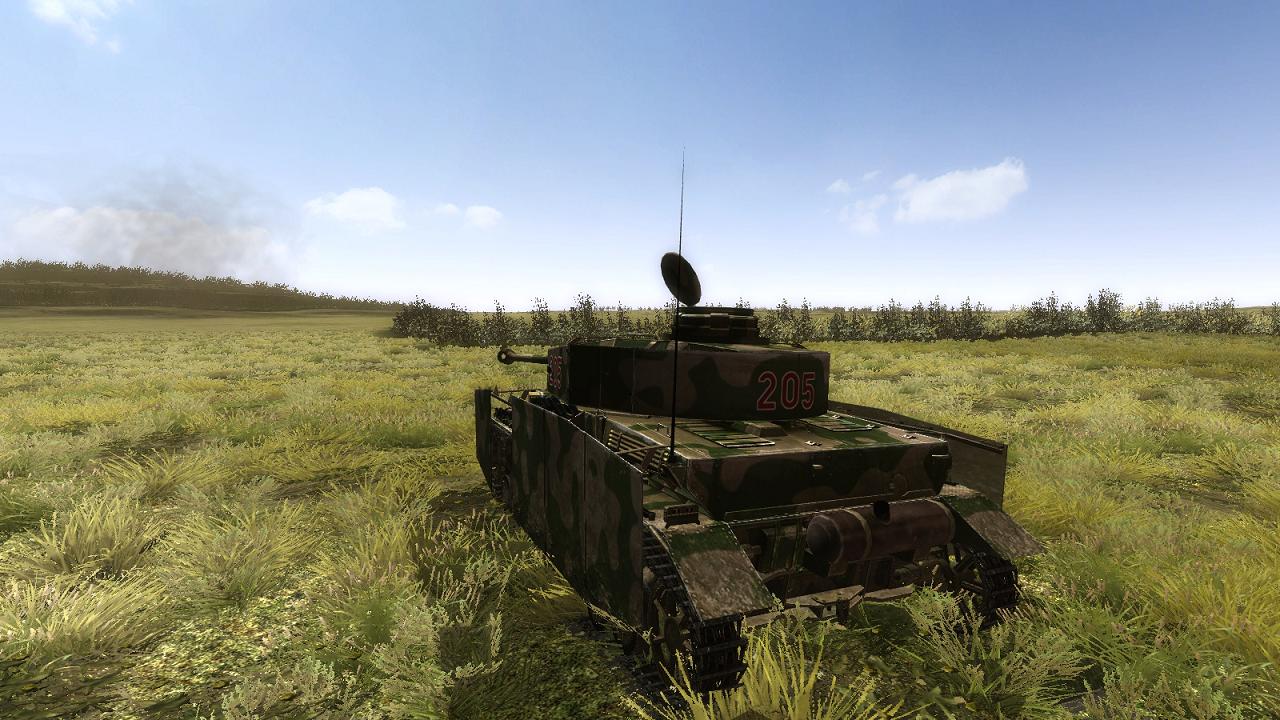 The other Panzer IV emerged into view beyond the far end of the hedgerow, maybe 200 metres ahead and slightly right. Typical! In SF, your AI platoon mates appear quite happy to charge ahead. Once they see the enemy, orders seem to go out of their heads in their enthisiasm to get to grips with the other side. If like me you try to take your platoon leader role seriously, you really have to keep an eye out for this sort of thing and get a grip, to nip it in the bud, as it were. Or try to. I went to the map view - unfortunately SF makes you compromise situational awarness like this, to give orders, although map markings can help compensate - and re-issued my orders - 'Do as I do!' and 'Line formation, close order!' Thankfully -  perhaps because there were no more visible enemies, to distract him - the panzer swung around had headed back to me. I should have let him sit where he was and caught him up. but never mind now, it would do.

I stopped to cover him back and scanned through the gunsight. I got a bit of a surprise, to see a Tiger, seemingly come from no-where, climbing the slope to Point 213, well ahead. I know cats, big and small, are supposed to be masters of stealth, but this was too much!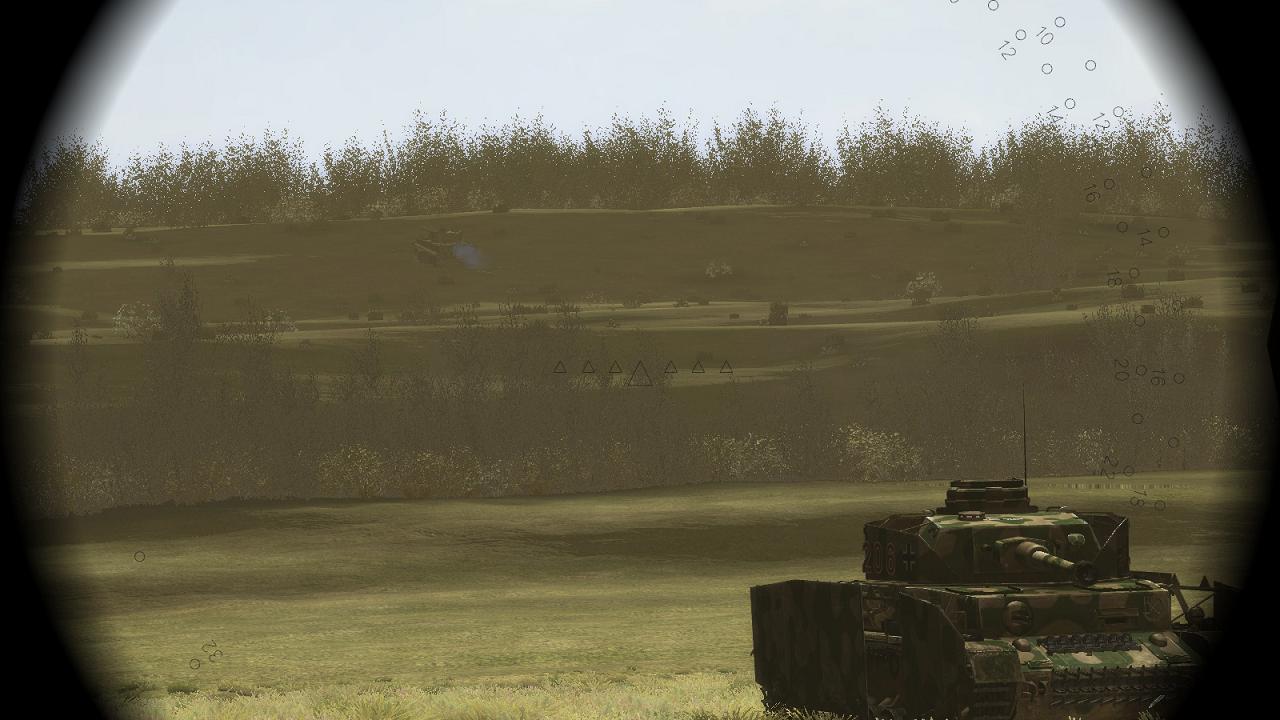 At least I now knew that it was clear, a good distance up ahead. No need to faff about. On I went again, ordering the driver to speed up, till we were going full tilt once more.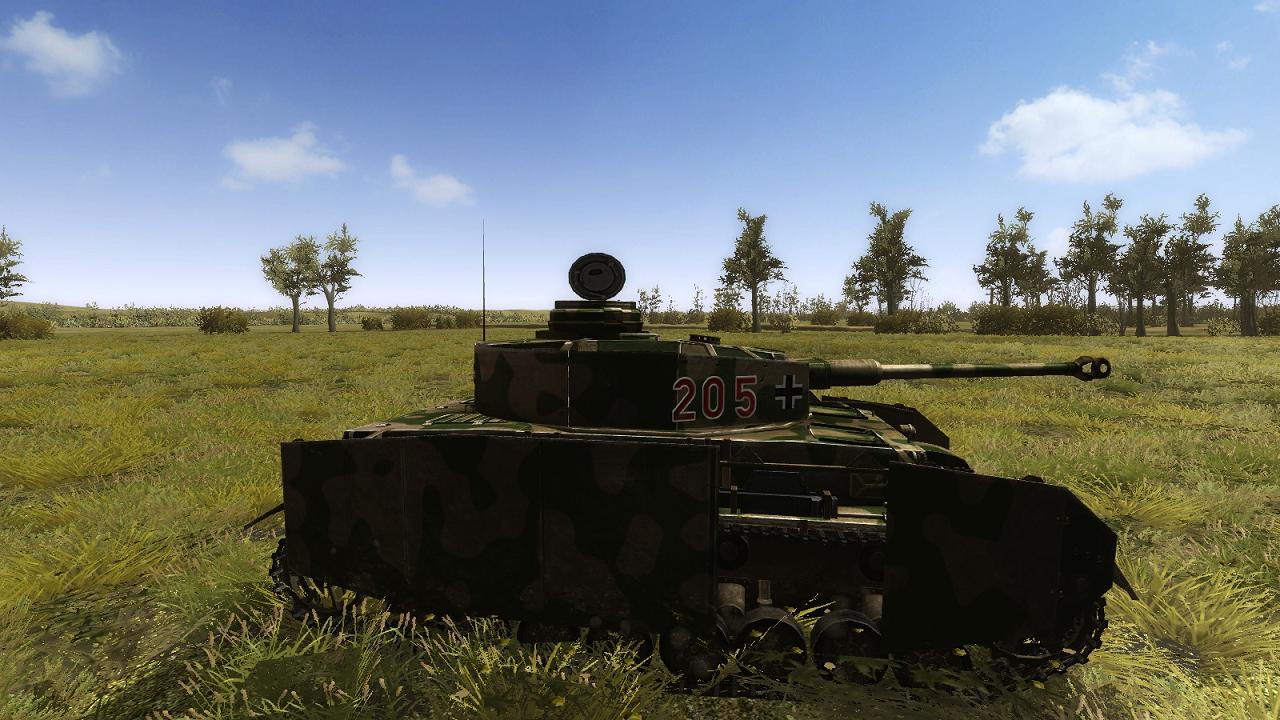 As I rolled on, we passed the Sherman we'd knocked out, which was by now living up fairly well to its various unsavoury nicknames, like 'Ronson' (slogan, 'Always lights first time!') or worse, 'Tommy cooker'. Hopefully, it would not be our turn, next.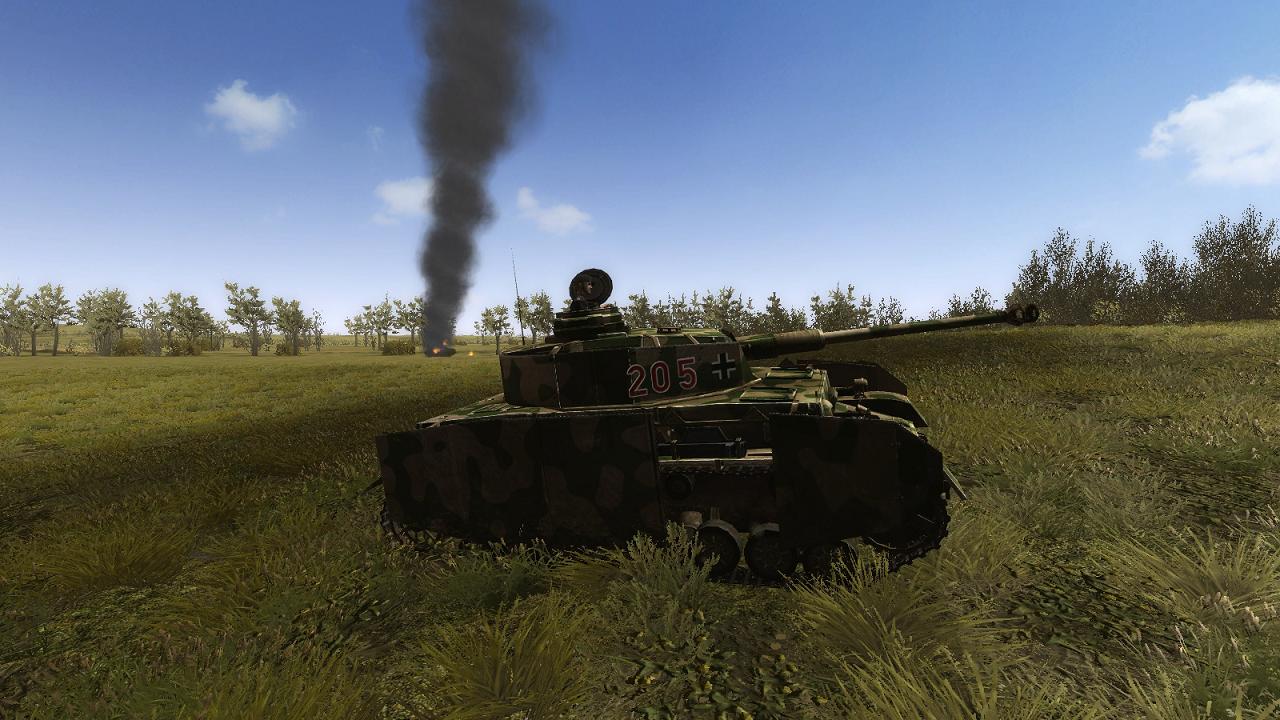 More re-assuringly, my number two was back with the programme, keeping station not too far out, on my right. That would do nicely.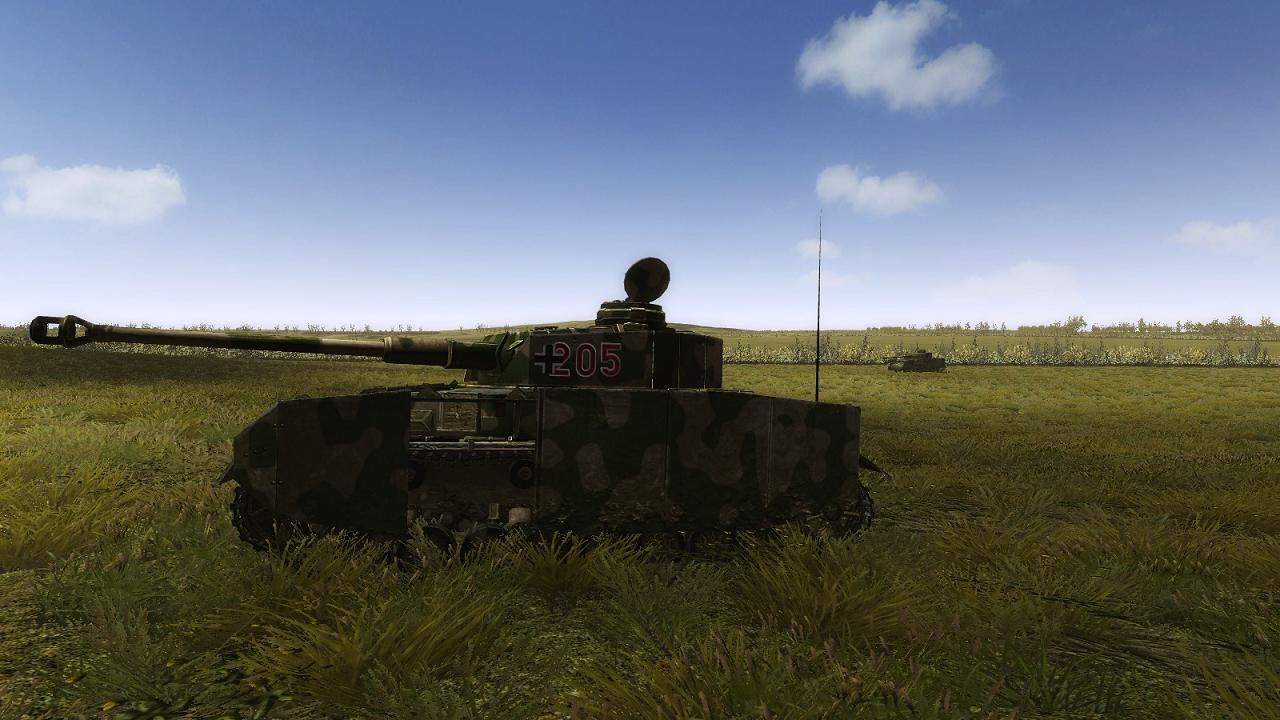 Soon, we were through some shrubbery - glad to say, there really is a lot of it about in SF's version of Normandy, certainly compared to its Soviet Union.  Our speed dropped back sharply as we began to climb the slope up to Point 213. Cannon and machine gun fire continued unabated, up ahead somewhere. We were a little late for the party, to be sure, but it was obviously still in full swing and we would surely be in the thick of it, in a matter of seconds.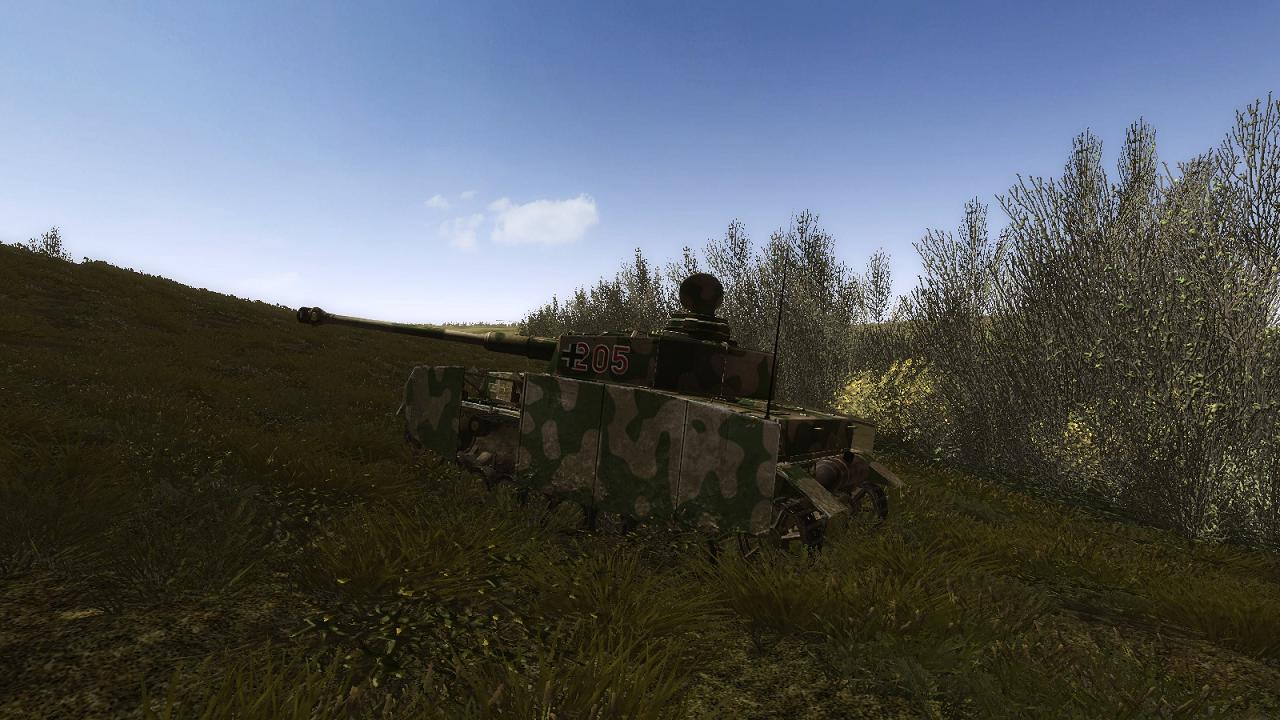 ...to be continued!
Last edited by 33lima on Sun Jul 26, 2015 4:45 pm; edited 1 time in total