1. Compass bug  (report only - no fix)
======================================
The new feature of the compass addition to the loader's and the radist's screens is bugy: on those screens the compass permanently indicates South.
If this feature will be repaired and will stay in the project, the widescreen 16x9 fix has to be actualized: it should reposition the compass on those screens, as it does on the commander's, gunner,s and driver's screens.
2. Soviet tanks shell loading animation bug  (and fix)
======================================================
The bug occurs in all cockpit-possessing Soviet tanks (also trophy).
Here examples of KV-1e and Trophy Tiger:

,

The only exception is Matilda, but the reason of this exception is ... that it has no shell loading animation at all, because of lack of
Steel Fury - Kharkov 1942\data\k42\loc_rus\levels\levels\tech_cfg\misc\sh_paths\shpaths_mk2.engcfg
however it exists at the stock game "artefact" location
Steel Fury - Kharkov 1942\data\k42\loc_rus\levels\levels\tech_cfg\misc\shpaths_mk2.engcfg
BTW: why have this one and some other (not all) shpaths_***.engcfg files been still kept at the "artefact" location ?
The reason of this "cock-loading" bug I've found in
Steel Fury - Kharkov 1942\data\k42\loc_rus\levels\levels\hum_cfg\hum_links_com.engcfg
Here is comparision of 2 versions of this file: existing in  STA 1.0 full (left) and existing in JunUpd_2015 (right):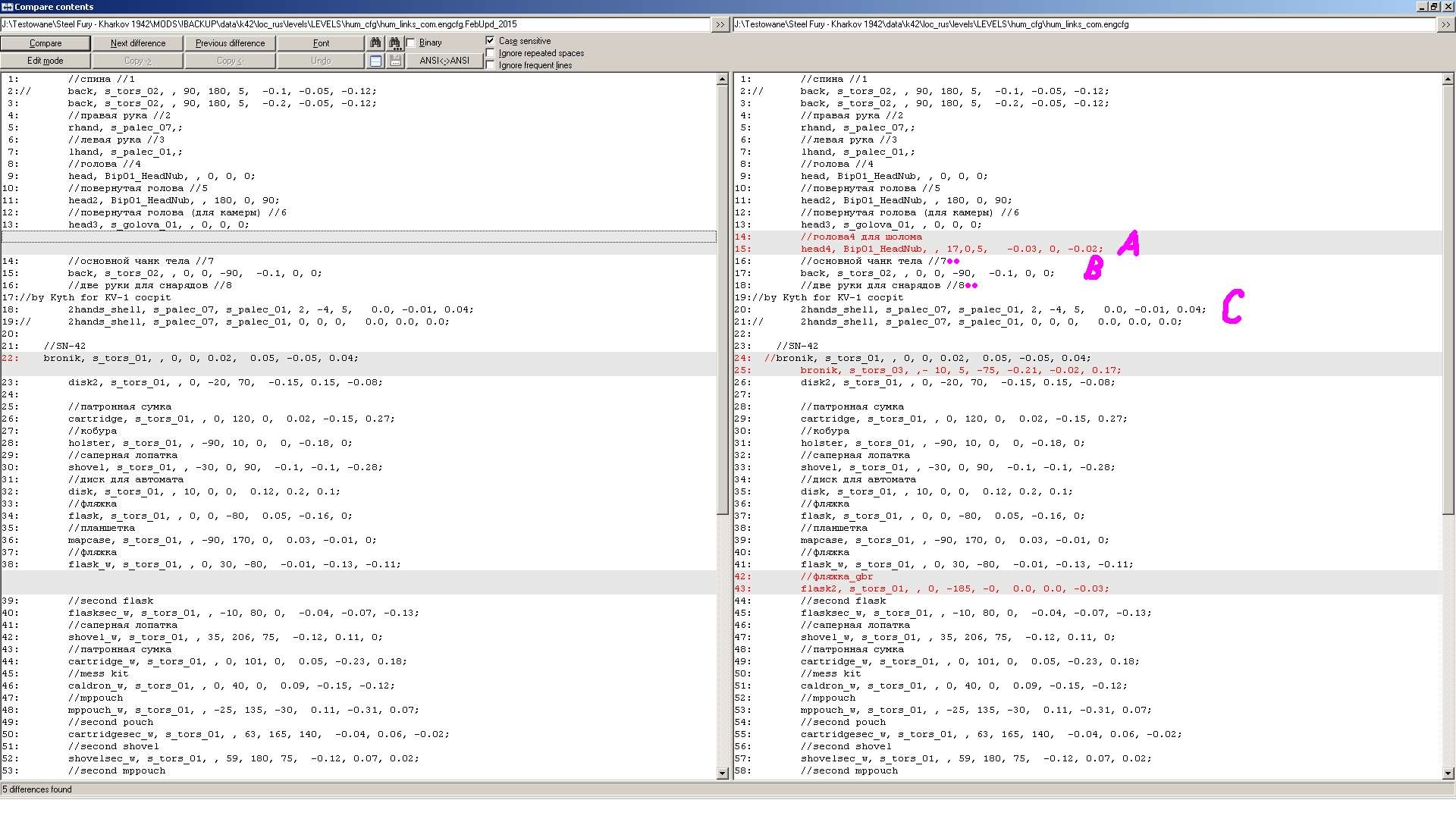 Insertion "A" is responsible for the problem: it causes, that all following entries ordinal numbers are shifted by 1.
In particular: "B" is shifted to 8, and "C" - to 9, so shell loading animations use the loader's body fix "B" instead of "C".
Bug fix here (including case of Matilda):
http://sendfile.pl/pokaz/430966---my29.html
The fix has been done in a safe way (not by deletion of the insertion "A"), effecting only to Soviet tanks .
However, I am interested, why had the insertion "A" been done?
I've checked rus.engcfg, ger.engcfg and all other soldier config files for existence of "head4" string, and ... haven't found.  Of course, the insertion "A" may be used with its ordinal number somewhere in tank configs, and this possibility is not so easy to check.
The insertion "A" is described: "golova4 dlya sholoma".
I've no Ukrainian dictionary, and my Russian-Polish dictionary doesn't consist the word "sholom".  What does it mean?  Isn't it a Jewish cap?